This cartoon resonates.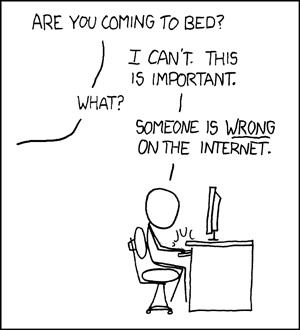 This is the reason I became a blogger. I spent too much energy on forums and message boards beating my head against brick walls. Physics may one day find a solution for straightening out the fuzzy logic that clouds so many heads, but I had finally proven (to myself at least) that you can't do it on a message board.

I saw this cartoon on Terrierman's Daily Dose today.

One thing I like about blogs is the flow of ideas and the great quantity of topics we're exposed to and can subsequently do research on.

Take Cass Sunstein. His name hadn't registered with me before Terrierman wrote a post about him, and challenged his readers to Google Cass and learn about him on their own.

I did just that.

And I reached some startlingly different conclusions, which I submitted to the comments of that blog.

As punishment, I was called a puppymiller.

Don't ask me why.

The exposure to contrarian ideas (mine) was evidently so devastating that Terrierman devoted a whole blog post to decrying it.

And exposed me to the cartoon that reminded me why I began blogging.

What I want, more than anything else, is for humanity to embrace liberty. I'm not above taking a page from Cass's book and nudging people there, a little bit at a time.

I try to explain liberty while I share important dog-related topics, and if people can ask a few more questions about the traditional dogmas as a result, that will be priceless.

.